Soltvadkert:
This city has it's name since 1900. Before that it was named Vadkert (wild garden) which refers to the wild nature in this region. It was founded in 1376. While Hungary was occupied by the Turkish army, Soltvadkert lost a big part of it's population.  Baron Orczy decided at the beginning of 1740 to move a lot of German emigrants to Soltvadkert. Soon it became the centre of tourism for the region.
Throughout Europe Soltvadkert is known for it's wine and palinka production, the main means of income of this city.
Close to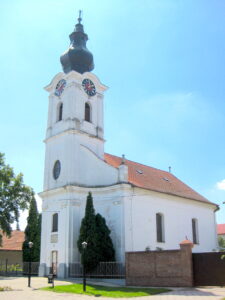 Soltvadkert is the Lake Vadkert (Büdös-tó), which is very populair among Hungarian tourists. It has been compared to Lake Balaton, but cheaper and less crowded.
Sights
– Soltvadkert is on of the few Hungarian towns with a Lutheran church. This church was build in 1837 by German immigrants and is still in good condition. After a 40 year banishment, the Lutheran congregation is still active. 
Did you know?
– In Soltvadkert you can find the best ice cream parlour and pastry shop of this region, Szent Korona Cukrászda!